Junior School Taster Day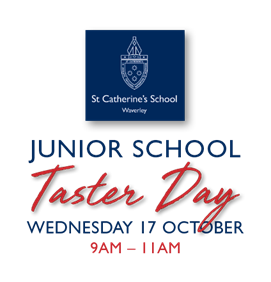 Date
Wednesday 17 October 2018
Location
Junior School
1 Leichhardt Street
Waverley NSW 2024
This event is not open for registrations
Do you wonder what our school might be like?
We wonder lots of things at St Catherine's.
A curious mind leads to a creative thinker and problem solver. In the junior school we keep curiosity alive.
Our Taster Day is the best possible way for you and your daughter to see what a school day is really like at St Catherine's.
Girls already at school can come along and join in classroom activities. Pre-schoolers will have a special lesson in our magical library.
Come and see the junior school for yourself!
The junior school taster day is designed for girls from 4 - 9 years of age who have not been offered a place at St Catherine's School.
For more information contact Mandy Treweeke:
enrol@stcaths.nsw.edu.au